VIRGINIA COMMERCIAL LANDSCAPE SERVICES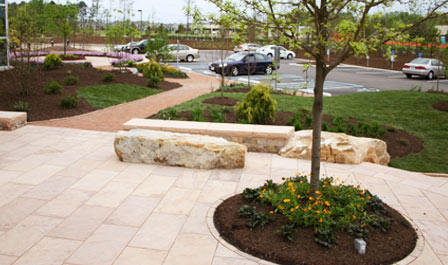 Commercial Lawn Maintenance
Our custom maintenance service for commercial properties can provide the pristine grounds you desire. We are well known for our ability and willingness to work with a wide scope of clients to provide service customized to a site's particular needs and budget. From starting work at 4:00 AM to working on weekends, the only thing that we are not willing to compromise on is our quality..
For industrial customers wanting the best service for their dollar but having to negotiate services to meet a budget, Morris Lawn Maintenance is the perfect answer for your needs. We are able to provide any level of service that you may need at the highest level of quality available. Bonded and insured for three million dollars, we are used to meeting the stringent requirements of working with corporate customers. As a Class 'A' state certified 'Landscape Services Contractor', we are fully capable of meeting any of your landscape service needs.
Landscape Design & Installation
At Virginia Landscapes we work with you to develop a landscape plan that caters to your desires, preferences and budget. Having over 15 years of first hand experience in the industry, we will always recommend the most suitable and logical plants for your property. Our professional installers can provide all of your installation needs with little inconvenience to you.
Landscape Renovations
One of the most popular ways to improve the appearance of your property is to renovate the existing landscape. Whether it is through re-defining bed lines, properly pruning the existing plant material or removal and replacement of overgrown or damaged plant material. Nothing makes as big of an impact on the appearance of your home as properly pruned plants, fresh bed lines, new colorful flowers and fresh mulch.
Hardscapes and Patios
Virginia Landscapes stands out as a premier builder of quality patios and walkways on the Peninsula. Whether it's interlocking or brick pavers, or irregular flagstone, Virginia Landscapes can design, deliver and install a patio to exceed any expectation you may have.
Ponds, Streams & Water Gardens
The best way to create a private oasis in your own backyard is to have the professional installers at Virginia Landscapes put in the water feature that you have been wanting. Whether it is watching your children hand feeding Koi fish or listening to the soothing sounds of the waterfall during dinner on the deck, the only regret you will have about your pond is not putting it in sooner.